21
« Last post by Ballardian on April 21, 2018, 10:47:34 PM »
Made a little progress on crewing the Waffentrager - I went for a fairly low-tech solution. The crew's bodies are Rubicon (the gunner's is from the 250/251 20mm turret kit, with the head from a WG/Italeri tanker - its facial detail was better, while the loader was a left over from an SdKfz 3 kit).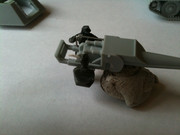 Rather than build the crew seats (I did think about it - having some left over from the same 250/251 conversion kit) I attached the crew models to the recoil guard - they each have a small piece of square section plastic rod stuck to their laps as a spacer so they sit at the right height, with a pin through it to attach them to the guard (they're currently held on with blu-tak so I can paint them seperately.
Then there's the issue of how much to detail the inside of the turret - given the fairly small apature you can't see very much, so I felt that I could get by with basic representations of the turret clutter. There's a radio on the left behind the gunner, with a cylindrical canister above it, while on the back wall you can see a storage box with a fire extinguisher above it - I'll probably pretty much leave it at that, perhaps adding a pack & an MP40.